In the Old Ways that we still celebrate to this day, Samhain is the Celtic New Year. On October 31st, we once again turn the Wheel of the Year and contemplate life and death and rebirth. It is a night of wonder and magic. The past, present and future are one. On this night, we recognize that the fallen leaves are decaying. We remind ourselves that this decay feeds new life to come. We honor the generations that have come before and we shine the light of our best wishes and most beautiful dreams onto those yet to come.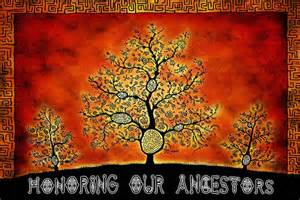 Samhain is the night when the veil between our world and the spirit world is at its thinnest. Samhain is pronounced SAH-wen or SHAV-na, and it is the night for reconnecting with our ancestors. We honor them for the life and energy they passed on to us through the miracle of our DNA. If we take a Shamanic Journey, we sometimes meet them. An ancestor may show up as an individual personality, or as a general archetype. In any case, we show respect by having no expectations of them and making no apologies for them. We consciously appreciate their efforts on our behalf, and know they watch over us. We can ask for their advice, protection and guidance for the upcoming year. We can converse with them to let them know what we are up to in life. We can assure them that we want them on our side. We want to receive their blessings. We can ask for their blessings for our children and grandchildren, too.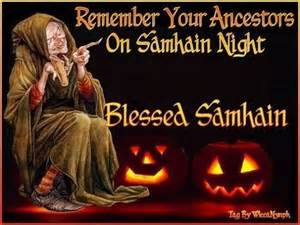 This is the night when the gateway between our world and the spirit world is the thinnest. Tonight is the night to call out those who came before. Tonight I honor my ancestors. Spirits of my mothers and fathers, I call to you. I welcome you to join me for this night. You watch over me always, protecting and guiding me. Tonight, I thank you. Your blood runs in my veins. Your spirit is in my heart. Your memories are in my soul. I remember all of you. You are dead but never forgotten. You live on in me, and within those who are yet to come.
Samhain is also a good night to contemplate our own mortality. It is a good time to look at wrapping up the old and preparing for the new in our lives. If anything is left undone, this is the perfect time to resolve it. Once unfinished matters are cleared away, we can begin looking toward the next year, free from restraints and encumbrances. We can then look to see how any unwanted aspects from our personal year can be released and transformed. We can also look into the crystal ball of our mind's eye and get a glimpse of what is to come in the year ahead. This is, indeed, a most magical time!