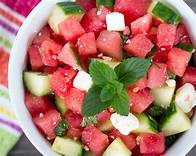 Chef's Note: this recipe is surprisingly delish, AND, so very refreshing, plus it's visually exciting! Use EITHER the mint or the cilantro, but don't combine them in this recipe. Too, the SEASONED RICE WINE VINEGAR has just the right taste. You can use other vinegars, but it's just not the same, I've tried it. Seedless varieties are the obvious choice for this recipe.
Chef's Tip: if you wish to use the watermelon carcass itself as the serving bowl for this dish, slice off a thin slice from the underside of the watermelon, after washing the outside of the melon very well with a mixture of 1 Tbsp. vinegar and 2 cups water. This way, the "bowl" won't roll around.
 INGREDIENTS:
1 small WATERMELON, seedless preferred, rinsed in mixture of 1/3 vinegar and 2/3 water, cut per instructions in Chef's Tip above
2 ENGLISH (seedless) or regular CUCUMBERS – peel, if not organic, and remove seeds from the regular cucumber using a large spoon, then cut into 1" square chunks to match size of watermelon chunks
1/3 cup SEASONED RICE WINE VINEGAR — please please please don't substitute other vinegars, it will adversely affect the overall flavor
¼ cup FRESH MINT or FRESH CILANTRO — washed and rinsed well, then pinched into small pieces using your clean thumb and pointer finger nails
SEA SALT and freshly cracked BLACK PEPPER to taste
PROCEDURE:
Cut watermelon chunks and cucumber chunks into same size chunks and place in a non-reactive bowl (glass or plastic) and refrigerate until time to serve;

Remove from refrigerator and finish with sprinkling of rice wine vinegar, salt and pepper and cilantro OR mint;

Place salad in the carved out watermelon carcass, if using, or in a pretty bowl;

Finish garnishing with fronds of mint or cilantro and serve well chilled.
This salad is such a fantastic summer salad and goes well with just about anything you would serve for dinner or lunch!