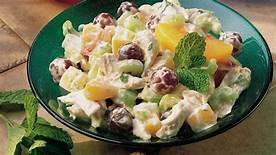 Mix together:
3 cups cooked diced chicken
2 1/2 cups seeded grapes that have been cup in half
2 cups diced celery
1 can of pineapple chucks, drained
1 can of mandarin oranges, drained
Sauce:
Blend until smooth:
1 1/2 cup mayonnaise
6 tablespoons milk
1 1/2 tablespoons chutney
1 1/2 teaspoons curry powder
1/4 teaspoons salt
Directions:
Pour sauce over chicken mixture and refrigerate for a couple of hours.  Serve over lettuce with wedges of cantaloupe or other fruit on side.  Another option: serve on a croissant as a chicken salad sandwich.  Yummy!
Just a personal note about the recipe:  I decrease the curry amount – it is a little strong for me.  I also decrease the milk and mayo if I am serving it on rolls as a sandwich.