"This is a great old Maine recipe, moist and spicy. The bread actually tastes even better the day after it is baked. Great for holiday gift giving!" — Laurie Bennett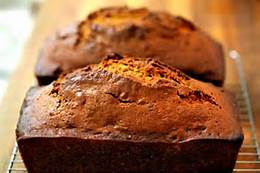 I must admit that I take some liberties with this pumpkin bread recipe from Down East Maine. I like to play around and substitute some of the ingredients. For instance, I'll use applesauce or orange juice or brown sugar in places. And I'll add nuts sometimes. Also, I usually have to bake it longer than the directions indicate. It has always come out delicious. Hope you have fun adding your own touches!
INGREDIENTS
1 (15 ounce) can pumpkin puree
4 eggs
1 cup vegetable oil
2/3 cup water
3 cups white sugar
3 1/2 cups all-purpose  flour
2 teaspoons baking soda
1 1/2 teaspoons salt
1 teaspoon ground cinnamon
1 teaspoon ground nutmeg
1/2 teaspoon ground cloves
1/4 teaspoon ground ginger
(may add 1 tsp vanilla)
DIRECTIONS
1.    Preheat oven to 350 degrees F (175 degrees C). Grease and flour three 7×3, or two 9×5 inch loaf pans.
2.    In a large bowl, mix together pumpkin puree, eggs, oil, water and sugar until well blended. In a separate bowl, whisk together the flour, baking soda, salt, cinnamon, nutmeg, cloves and ginger. Stir the dry ingredients into the pumpkin mixture until just blended. Pour into the prepared pans.
3.    Bake for about 50 minutes in the preheated oven. Loaves are done when toothpick inserted in center comes out clean.