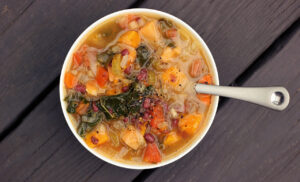 FALL DETOX SOUP

When you are on a cleanse, it's important to be consuming organic fruits and vegetables as much as possible. Always be sure to properly clean them, as well. You want to be avoiding any and all unnecessary toxins both in your food and in your environment during your detox. Rather than putting the word "organic" before each ingredient, just know you should be selecting organic whenever possible for this soup.
This particular soup is filled with the best of what is in season right now. If some of these ingredients aren't available near you, improvise with what you do have. This soup was literally inspired by what looked best at the market.
Aduki beans (aka azuki or adzuki beans) are great for a protein, as they are far easier to digest than most other legumes and they are known to help the liver to detoxify. Just a quarter cup of aduki beans contains 100% of the recommended daily intake of molybdenum, a trace mineral that produces the enzyme sulfite oxidase which is crucial for liver detoxification. Aduki beans are one of the highest in protein and lowest in fat and they are loaded with soluble fiber. The high iron content also makes them a good choice for women's health. In Japan, aduki bean soups are often consumed after menstruation to replenish red blood cells.
This soup is so comforting, so warming and really makes you feel good! It's got a hint of flavor from the apple cider vinegar that's added at the end. You could also opt for lemon or lime juice instead. Feel free to use whatever fresh herbs you have on hand and enjoy. Please feel free to tweak this and make it your own.
Ingredients:
1 tablespoon olive oil, coconut oil or ghee
1 large onion, chopped
1 large leek, cleaned well and cut into half lengthwise then into thin slices
2 celery stalks, chopped
1-2 pepper(s) of your choice, diced (I went with two Anaheim peppers)
6-8 cloves of garlic, minced
2 carrots, scrubbed clean, peeled and chopped
3 or 4 small rutabagas, peeled and cut into medium dice
1 very small or 1/4 of a medium head of cabbage, core removed and sliced thinly (about 2 cups)
3 cups butternut squash, peeled and cubed (you could also select Kobucha squash or pumpkin)
8-10 cups water
Fresh herbs (rosemary and oregano, or whatever you have on hand)
3 roma tomatoes, with seeds and skin, diced
2 cups cooked Aduki beans
1 bunch of kale, stems remove and leaves roughly chopped
1-2 tablespoons apple cider vinegar
Pink Himalayan sea salt, to taste
fresh cracked black pepper, to taste
pinch of red pepper flakes, optional
Directions:
If you can, use dried beans, cooked beforehand. Feel free to used canned, but it's best to avoid canned foods while cleansing whenever possible. Feel free to substitute mung beans, lentils or even pinto beans or kidney beans. Just be sure to soak any beans than need soaking, before cooking them.
Heat the oil in a large pot over medium-high heat. Add in the onion, leek, celery, pepper(s) and garlic. Cook for about 5 minutes, stirring often. Add in the carrots, rutabagas, cabbage, squash and any fresh herbs you are adding. Cook for about 5-7 minutes. Stirring often.
Add the water, tomatoes and beans, take it up to a medium-high bring it to a light boil then drop the temperature down, cover and simmer the soup over a low heat for 30-45 minutes. The longer it simmers, the better and more intense the flavor will be. Season with salt and pepper, to taste. Add any additional herbs or spices you would like.
Just before serving add the kale and the apple cider vinegar. Stir well and serve.