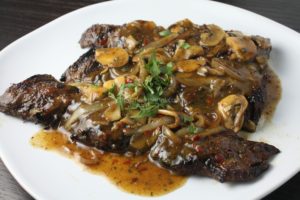 On a personal note, I happen to like marinated skirt steak quite a lot, but I have learned that the longer it cooks the tougher it gets.  For this reason, the common wisdom is that it is best prepared rare or medium rare.  Whatever your preference, you'll want to serve it sliced very thin after cooking. Here's the recipe:
Marinade:
2 T tamari
2 T Olive oil
½ lemon juiced
2-3 cloves garlic, minced
2 tsp oregano
Combine the marinade ingredients for 1½ lb. skirt steak in zip lock bag. Add steak and turn to coat both sides. Marinate in the marinade for anywhere from a few hours up to 3 days.  [Feel free to add S & P (even Worcestershire sauce, if you like) to the marinade – or you can leave it out of the marinade and let each person add it to taste on their plate.]
Directions:  
Preheat oven to 450, or prepare grill.
Cook for 6-9 minutes on one side, depending on how well done you like your steak.
Flip the steak over and cook for half the time of the first side (if grilling, grill the steak for 6-7 minutes on each side).
Cut steak across the grain and serve.
Here are some helpful hints for cooking skirt steak: 4 Quick Steps; and How To Cook It Perfectly.
And check out the recipe for Sautéed Teriyaki Mushrooms. It's the perfect complement!