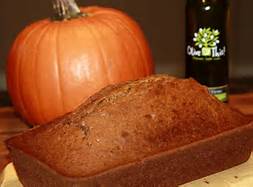 I was a little surprised at how many more people clicked on the recipes I included in my last newsletter – and how many took the time to email and let me know how much they liked them – so I decided to do one more. Enjoy!
As a rule, I don't really enjoy baking. Maybe it's because I'm not very good at it. I rarely have an urge for bread, cake or pie, but when I do, I'll buy it rather than bake it. But one day I did have an urge – for pumpkin bread, in particular. I have no idea why I wanted to make it, but I found myself searching recipes on the web, and one of them sounded really good to me. I even ended up reading the comments of people who had tried it and had added this and that.
I chose the measurements and ingredients that appealed to me and went to work. I was pleasantly surprised at how quickly and easily it came together. [I am notoriously slow in the kitchen, so this made a big impression]. And it turned out great. This pumpkin bread always turns out great. I've given it to many friends and it's always a hit.
One of the extra added treats of making pumpkin bread in your own kitchen is how good it smells. It fills the whole house and you get the pleasure of that exquisite aroma for hours afterwards. And let's not forget your taste buds. They get their full measure of delight, as well!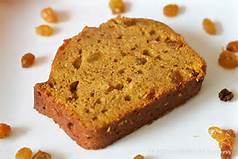 According to Laurie Bennett: "This is a great old Maine recipe, moist and spicy. The bread actually tastes even better the day after it is baked. Great for holiday gift giving!"
Ingredients
1 (15 ounce) can pumpkin puree
4 eggs
1 cup vegetable oil (I prefer 1/2 veg oil, 1/2 apple sauce)
2/3 cup water (I like to substitute orange juice for the water)
3 cups white sugar (I use 1C brown sugar, and a little less than 2C white sugar)
3 1/2 cups all-purpose flour
2 teaspoons baking soda
1 1/2 teaspoons salt
1 teaspoon ground cinnamon
1 teaspoon ground nutmeg
1/2 teaspoon ground cloves
1/4 teaspoon ground ginger
may add 1 tsp vanilla (if you like, but, honestly, it is just as good without it)
pecans (they're optional, but for me, they are what really make this pumpkin bread so good)
Directions
1.    Preheat oven to 350 degrees F (175 degrees C). Grease and flour three 7×3, or two 9×5 inch loaf pans.
2.    In a large bowl, mix together pumpkin puree, eggs, oil, water and sugar until well blended. In a separate bowl, whisk together the flour, baking soda, salt, cinnamon, nutmeg, cloves and ginger. Stir the dry ingredients into the pumpkin mixture until just blended. Pour into the prepared pans.
3.    Bake for about 50 minutes in the preheated oven. Loaves are done when toothpick inserted in center comes out clean.
This was my first attempt at pumpkin bread, and I love this recipe! The combination and measurements of the spices are perfect. I have used 2 (8×4) pans, instead of the 3 (7×3), and both sizes work. You may need a little extra baking time with the larger pans.
I brought the extra loaf to a neighbor, and they finished it in one day. Yeah. It's GOOD!
HAPPY THANKSGIVING!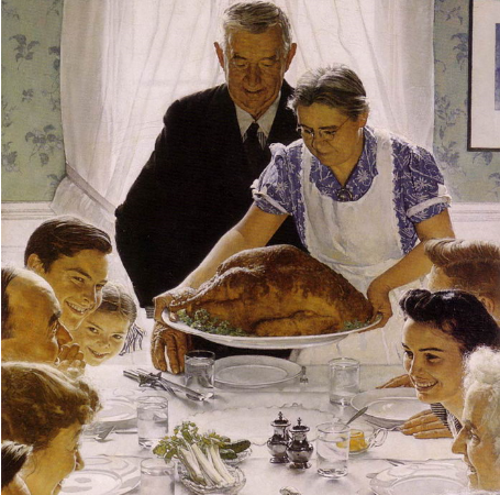 May you find it easy to count your blessings this year, and always.
I want to say a big THANK YOU for being a blessing to me!