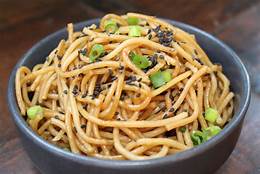 The assembled dish can be refrigerated up to a few hours. Or put together the sauce a few days in advance to make final prep a breeze with the cooked noodles. The more of the optional vegetables you add, the better the noodles get.
This rich, slightly sweet peanut sauce works almost as well on plain pasta as it does in its traditional incarnation using egg or rice noodles.
You can toss raw, julienne carrots and bell peppers or steamed snow peas and broccoli with the noodles and peanut sauce. Leftover sauce can be refrigerated and served with cooked rice and raw or cooked vegetables.
Servings: 4 – 6
Ingredients
1 pound spaghetti or Chinese egg noodles


2 tablespoons peanut oil


2 scallions, thinly sliced on the diagonal, plus more for garnish


1-inch piece fresh ginger, minced


3 cloves garlic, minced


1 teaspoon Asian chili paste or to taste (optional)


2 tablespoons light or dark light brown sugar


1/2 cup creamy peanut butter (may use natural peanut butter)


2 to 3 tablespoons low-sodium soy sauce, plus more as needed


2 tablespoons rice vinegar (optional)


6 to 10 tablespoons hot water


Salt, as needed


3 tablespoons toasted sesame oil


1 tablespoon sesame seeds


Cucumber slices


Carrot sticks


Red, orange or yellow bell pepper slices


Fresh cilantro or mint leaves

Directions
Cook the pasta according to package directions, and drain it well. If a cold dish is desired, rinse the pasta under cold running water to cool, and drain again.
Meanwhile, in a small pot over medium-low heat, heat the peanut oil. Add the scallions, ginger, garlic and, if desired, chili paste and cook, stirring, for 1 minute. Add the brown sugar, peanut butter, soy sauce, vinegar if desired and 6 tablespoons hot water. Stir until the sugar is dissolved and the mixture smooths out.
Remove from the heat. If necessary, add additional hot water, 1 tablespoon at a time, to achieve the desired consistency. Taste and add more soy sauce or salt, as needed.
Return the hot or cold noodles to the pot in which they were cooked, add the sesame oil and toss to coat. Add as much of the peanut sauce as desired and toss again to coat. Transfer to a serving bowl or individual plates and sprinkle with additional scallions, sesame seeds, cucumber, carrot, bell pepper and cilantro or mint. (May cover and refrigerate up to several hours.)