FENNEL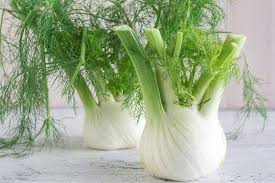 If you haven't tried fennel yet, you will be delighted when you do. It is crunchy and slightly sweet. It is delicious and nutritious and so refreshing – which makes it all the more perfect for this time of year. Yes, it is in season from Fall through Spring so feel free to add it to your selection of fresh vegetables this winter. Plus, there are so many ways to prepare it, from salads to soups to side dishes and more.
All parts of fennel – from the bulb to the stalk to the fronds and seeds – are edible. And it's loaded with vitamins, minerals and fiber, so it provides antioxidant protection and immune support. The World's Healthiest Foods Rating rates all the nutrients in fennel as excellent, very good or good.
For example, the Vitamin C found in fennel neutralizes free radicals and is directly antimicrobial. Not only that, but this under-appreciated vegetable is also a very good source of fiber (which helps reduce cholesterol levels) and potassium (which helps lower blood pressure).
So, start enjoying this light and tasty, valuable, virtuous vegetable today!
ROASTED POTATO & FENNEL SOUP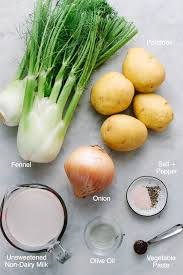 Ingredients
4 lbs Yukon Gold potatoes, skins on

¼ C olive oil + a little more to sauté onions & fennel

1 T salt

2 tsp pepper

1 T garlic, chopped

4 C onions

4 C fennel

2 qts chicken stock (or vegetable stock for a vegan version)


1 C heavy cream (more or less, according to taste)
Directions
Quarter the potatoes (if they're small, or to good size if larger)

Spread them onto a baking sheet. Drizzle the olive oil over them, sprinkle the garlic, salt and pepper, and toss to coat.

Make sure to spread them in only one layer, otherwise they will steam, rather than roast.

Bake at 400゜for 30 min.

Meanwhile, in your soup pot, sauté onions & fennel in a few tablespoons of olive oil until translucent, about 10-15 min.

Add roasted potatoes to the pot and stir

Pour in chicken stock, bring to a boil, turn down the heat and let it simmer for about an hour.

Stir in cream (don't use milk, it will curdle) and turn off heat.

Run through a food mill to keep some nice texture (skins will not process through), or through a blender or food processor (will come out more puréed). Keep going, batch by batch, until you've completed the whole pot of soup.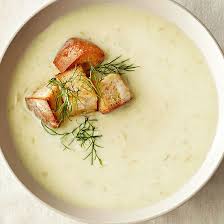 To Serve
Garnish with fennel fronds and a drizzle of cream
[I made this soup a couple of days ago and found it a bit bland and more potato-y than fennel-y. As I love fennel, I will change the proportions next time and maybe add some rosemary, or garnish with chives or scallions or something. Also, instead of running it through a processor, food mill or blender, I used the chopping attachment to my immersion blender and did it right in the pot. It worked out great.]
MORE FENNEL RECIPES ONLINE
Chicken Soup with Fennel and Farro
Roasted Chicken Thighs with Fennel & Lemon