Sautéed mushrooms are so delicious and flavorful. If you love mushrooms like I do, you can literally pair these Teriyaki Mushrooms with anything or even better, put them on top of everything – steak, burgers, chicken, fish, salads, potatoes, rice, and  so many different dishes.  Like this Marinated Skirt Steak recipe: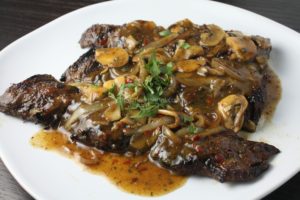 Ingredients
3T olive oil
3T butter
1 lb. button mushrooms, sliced
1 clove garlic, thinly sliced
1 T red cooking wine
1 T teriyaki sauce, or more to taste
¼ tsp garlic salt, or to taste
Freshly ground black pepper to taste
Directions
Heat olive oil and butter in a large saucepan over medium heat.
Cook and stir mushrooms, garlic, cooking wine, teriyaki sauce, garlic salt, and black pepper in the hot oil and butter until mushrooms are lightly browned, about 5 minutes.
Reduce heat to low and simmer until mushrooms are tender, 5 to 8 more minutes.