"An apple a day keeps the doctor away." We all know this saying from childhood. So what exactly are those benefits? Research has come up with quite a few interesting facts. What they have discovered just may inspire you to eat more apples!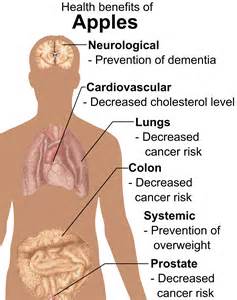 An apple is high in fiber, pectin, flavonoids and antioxidants, which fight disease.

Fiber regulates the water balance in your colon. This balance prevents constipation and diarrhea. Fiber pulls water out to keep things moving when you're backed up. And it absorbs excess water from your stool when you need to slow your bowels down. Added benefits are prevention of hemorrhoids and neutralization of  irritable bowel syndrome (IBS).
The pectin in an apple lowers LDL cholesterol (the "bad" one). Eating 2 apples a day could lower your cholesterol by as much as 16%.
Many cancers are helped by apples. In a study of 10,000 people, those who ate the most apples had a 50% lower risk of developing lung cancer. A study on rats at Cornell University showed that rats that ate an apple a day reduced their risk of breast cancer by 17%. Three apples a day reduced their risk by 39%. And six apples a day reduced it by 44%. One study showed that rats fed an extract from apple skins had a 43% lower risk of

colon cancer

. Other research shows that the pectin in apples reduces the risk of colon cancer and helps maintain a healthy digestive tract. Still other studies found that rats fed an extract from apple skins showed a 57% reduced risk of liver cancer.
Weight loss – A Brazilian study showed that women who ate three apples or pears a day lost more weight while dieting than those who did not eat fruit while dieting.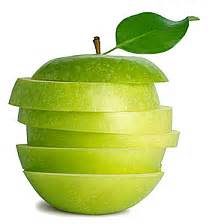 SO! . . . ADD AN APPLE A DAY TO YOUR DIET!!!
Here are a couple of delicious recipes for you to try.                         Bon Appetit!
APPLES WITH PINE NUTS AND GOLDEN RAISINS
INGREDIENTS                                                                                                                                                                                 

9 apples, peeled and cut in bite-size chunks                                                                                                                                          

2 packages pine nuts                                                                                                                                                                                     

1 package golden raisins


juice of 1/2 lemon

 sugar to taste                                                                                                                                                                                                   

fresh cinnamon and nutmeg to taste
    DIRECTIONS
Place cubed apples in saucepan in approximately 1 inch water. Bring to boil. 

Reduce heat and add all other ingredients except pine nuts.

Simmer approximately 30-45 minutes. 

Remove from heat. Toss in pine nuts.

May be served hot, warm or chilled.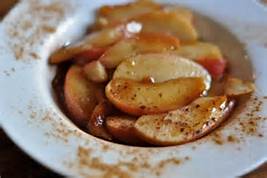 SOME OF MY PERSONAL TOUCHES
~ Try a variety of apples, like Pink Lady, Gala, Fuji, Granny Smith, cooked together etc.
~ To me, it tastes better when you don't peel the apples.
~ Honey, instead of sugar, is a delicious alternative.

~ Include cloves and allspice with the spices. Remove them before serving.
~ This dish makes a tasty desert – either alone, over ice cream, or with certain cakes (like sponge, pound, lemon, etc.).

~ I love it on toast for breakfast – sometimes with mascarpone or cream cheese, sometimes with banana slices, but mostly just alone. It's wonderful mixed into a bowl of oatmeal, too. I'm sure you'll find your own new favorite ways to serve it to friends and family.
APPLE ONION SAUTE 
This is a quick savory-sweet accompaniment for your favorite meat. If you are in the mood for a bit of a twist, use Bermuda onions and Idared apples for an attractive pink presentation.
INGREDIENTS
4 medium firm New York State (or similar) apples, cored and sliced

3 Tbs. butter

2 onions, sliced

1/2 tsp. marjoram

salt & freshly ground pepper to taste

1/2 tsp. freshly squeezed lemon juice
DIRECTIONS
Heat the butter in large skillet. Add the onions and apples.

Saute over medium heat until tender.

Season with marjoram, salt and pepper. Stir in the lemon juice.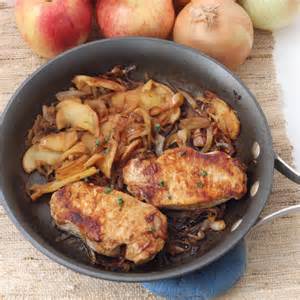 SERVE HOT WITH CHICKEN BREASTS,
PORK CHOPS, AND OTHER MEATS.
Here's a short video: 4 Ways To Add Apples To Your Diet